Best Resident Celebrity in Camp
The Nominees:
Cecil the lion isn't the only famous animal around in Hwange national park. At Somalisa, 'Warthog' is a very well known and slightly unusual elephant that started visiting Somalisa when it was being built. His small tusks stick out to the side, very similar to that of a warthog, and hence his name. The elephant pool at Somalisa Camp provides the rare opportunity for you to get as close as possible to a wild elephant as you ever will be. Those of you that have been lucky enough to experience this will appreciate the magnitude of being in arms reach of a 7 ton beast. Those of you that haven't, well, what a breath taking thrill to look forward to.

In Mana Pools, giants walk the earth and Boswell rains as king of the beasts. This magnificent elephant is a titanic specimen that makes the hairs stand up on any guest that comes across him. Boswell has become famous across Africa not just for his size but because of an astounding trick where he stands on his hind feet to reach the top branches. Our exceptional guides at Zambezi expeditions can take you on the adventure of a lifetime as you put your boots on and track these extraordinary animals in the heart of Africa.
Boswell is not the only resident celebrity in Mana Pools. Mich is a hippo that thinks he's a human. Mitch lives in the stretch of Zambezi right in front of Zambezi Expeditions but tends to spend a lot of his time around camp. And why wouldn't you? What a beautiful camp it is. A particular favourite of his is to curl up next to the fire. In fact, one early morning, our host Sebastian, was collecting firewood and in the darkness grabbed what he thought was a log but ended up getting a fright realising it was Mitch's leg. A hippo might not be everyones first choice of pet but we are always very happy to have Mitch as part of the family.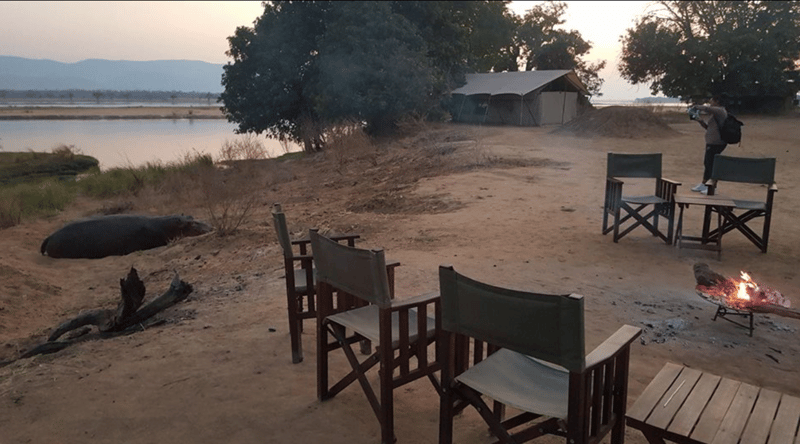 And the winner for Best Celebrity in Camp...